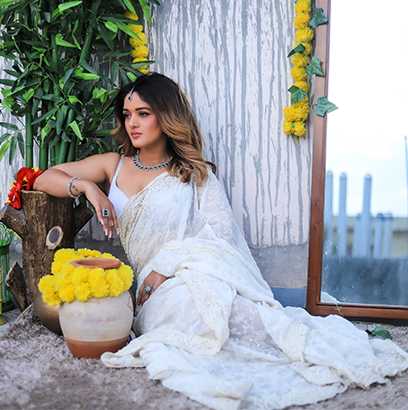 A saree is one of the oldest attires of Indian civilisation. Its mention in ancient Vedic scriptures only authenticates this belief further. Of course, this form of dress is synonymous with women. Earlier, sarees were limited to cotton fabrics and silk fabrics. Over a period of time and with the introduction of other natural and synthetic materials, sarees became even more popular as they were now crafted out of blended materials as well.
Originally, a saree was worn by Hindu women but gradually it seeped into other cultures, religions and even broke geographies to become one of the most favoured attires. Although certain colours, weaves and patterns are still culturally symbolic, their secular essence has turned them into a popular choice amongst women belonging to the Indian subcontinent and Indian diaspora residing across the globe

What transformed this traditional, intriguing haute couture further was the evolution of weaves and weaving machines. It gave birth to stunning options that were glitter and glamour personified. Today, these are tagged as "Designer Saree", and Organza saree is a perfect example.
Some of the popular examples in the designer saree class include -
Mirror embellished CHIKANKARI on nylon organza saree.
RESHAM work pattern embroidery on nylon organza saree.

While some of the traditional designer options are -
Silk sarees such as KANCHIPURAM, BANARASI and MYSORE.
Tie-dye BANDHANI Sarees.
Block printed cotton / blended sarees.
So, how is designer saree different than its traditional sibling?

Designer sarees can be summed up in just one sentence. It is a blend of traditional styles and rich modern fabrics. Most of the designer sarees make use of delicate, intricately woven and lustrous fabrics with muted self-designs or embroidered with contrasting motifs along the entire length and breath. At times these embellishments are embedded along the sides or in chunks. One the popular designer sarees from Fabric Pitara is the resham pattern embroidery on Bamber Georgette.

Interestingly, these super luxurious materials are typically reserved for "designer saree party wear" category. For example, sarees for brides are heavily embellished and therefore tend to reflect that elegant, rich look. On the other hand, certain saree colours are synonymous with religious ceremonies. Even so, all designer sarees tend to exhibit traditional features such as intricate embroidery, self-designs woven from Jacquard looms or woven prints that are classic in nature.
A designer saree will always echo with some of the traditional elements ... colour, creativity, complexity being some of them, and each variant is worn for a specific occasion. Get one today from Fabric Pitara, the ultimate destination for upscale and exclusive sarees.